Do you need a craft idea while your children are home for summer break? I know it can get hectic trying to entertain the little ones. This moonsand is so easy, even a toddler can help make it. It's so simple, I call it two ingredient moonsand.
This experiment will take you less than 5 minutes to complete, but boy is it fun!
**I do share products that I love and use with you. If you make a purchase through one of the links, I will receive a commission. I appreciate your support**
As with all of my experiments or children crafts, I recommend putting down a cheap tablecloth from the Dollar Tree or Wal-Mart. It makes cleanup a lot easier.
Ingredients:
4 cups of flour
1 cup baby oil
Yep! that's it. The two ingredients you need. You'll need a bowl to mix them in. But this is all you'll need. Don't forget your tablecloth. You can mix them with your hand or get a spoon. We like to get messy, so we used our hands.
Once it's mixed together, work it a little more, so it's the consistency you'd like.
If you want color, you can add food color. We chose white this time to make it look just like sand.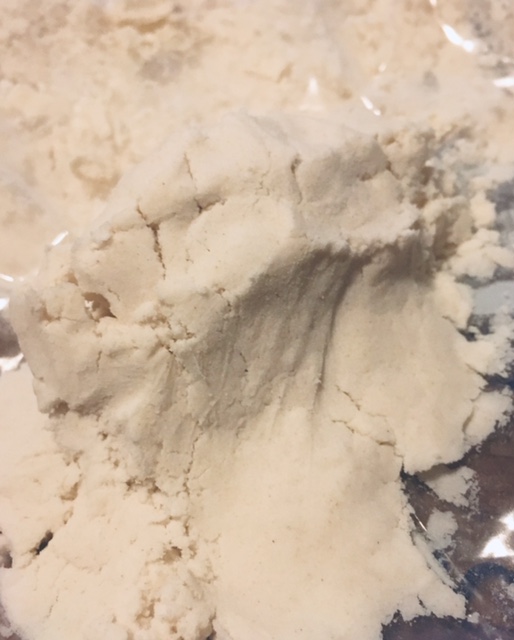 Instructions
Once you have the two ingredients in the bowl, like I mentioned before, mix it all together. If you're afraid of the mess, use a spoon. But eventually you'll have to use your hands to mold the sand to what you want it to be.
That is truly all it is to the entire project. They're ingredients you most likely already have in your house.
It should keep your little one busy for a while. Make several batches with it's own color.
When you are finished playing with it, make sure you store it in a sealed plastic bag. You don't want it to dry out.
Remember, you can check out more of our craft ideas on my daughter's YouTube channel.
Don't forget to subscribe too.