Every year, my parents, my sister, and my brothers and all of our families plan a family vacation together. It first started with my children, my parents, and me, but it has grown to include all of us. I look forward to our family vacation every year.
Some years not all can come, but we still plan it. We all look forward to it. Pssst…but secretly, my planning side kicks in and I semi panic to make sure things are in order.
I know it's supposed to be a vacation, but I can't help it. The personality quizzes have tried to tell me what type of personality I have. I can't remember my result, but I probably need to retake it, so I can tell you guys.
**I do share affiliate links to products I love and love to share with you. If you make a purchase from my links, I will receive a commission. I appreciate your support**
And I don't care what the results or what a quiz says about me honestly. I just know, it makes me more comfortable to have a plan, an agenda, and a schedule.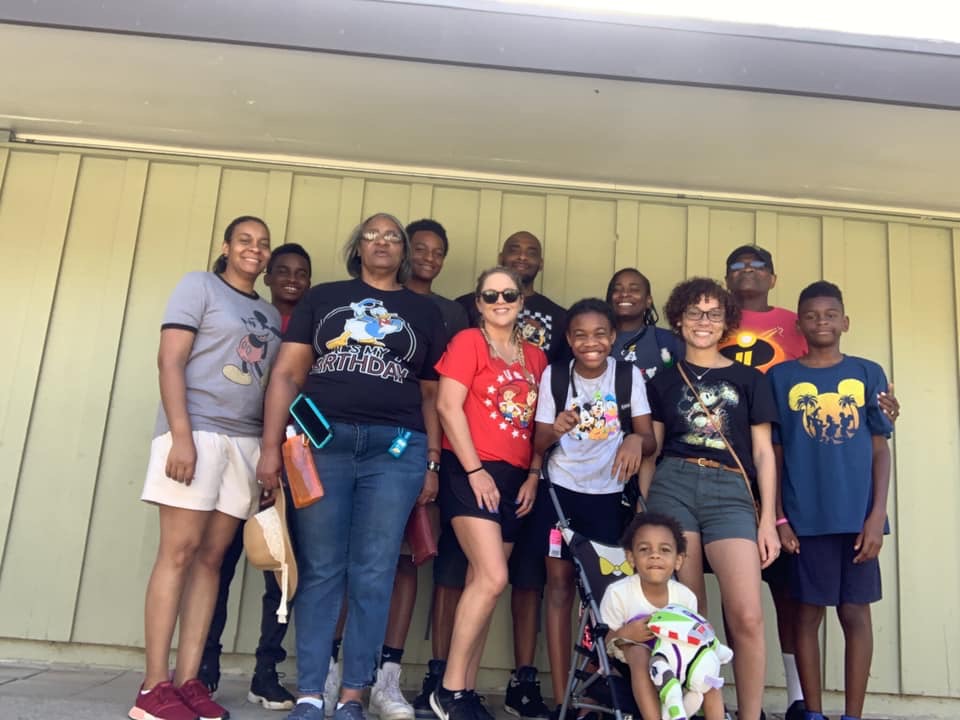 But all of that aside, this year, we are ascending on Disneyland in California! And I can't wait. I get excited as much as my children.
Places to stay on family vacation
This is our first year staying in a vacation home (VRBO, AirBNB, or whatever). And I'm looking forward to it. We finally booked a place. This year it took a while to finally settle on a place. But my sister and I got sick of looking, debating, and sharing our finds, that we finally just said let's book this one.
Update–We loved our AirBNB! It was perfect and it was so close to Disneyland. We saw the fireworks from our front porch each night. And it was seriously less than a 15 minute walk away. There was a total of 12 of us, so finding a home wasn't easy, but I'm glad we did, and it was so worth it.***
My parents are so used to staying in hotels, my mom is very leery of this idea. I'm trying to convenience them that it will be fine.
It's a lot cheaper than staying in a hotel that's for sure. Even using Walmart Grocery delivery helped us save a ton of money. If you're going to a place that offers this, I recommend it.
Booking airfare for family vacation
That's one thing down, now our flights. And then of course, The Different Mom has to have a travel planner. I will work on the agenda and itinerary soon.
We booked on Delta because in my experience, they are the most reasonably priced that allows me to pick my seats. I just need to make sure that my children are next to me. Everyone has their own choice of airlines, but this is my preference. But boy am I glad we chose Delta. They were amazing for this trip, as with all of the others. My children even got to meet the pilot, start the engine, and go through the checks. It's an experience they'll never forget.
I look forward to our family vacation every year, so making time for a family vacation is a must
If you don't currently plan family vacations, I urge you to take one. It doesn't have to be elaborate. But I think it is good for your children to see the family connection, and to spend time with their cousins.
I also think it's good for everyone to see what else is out there other than the few places you go on a daily basis. This is completely my opinion, that exploring the country and/or world helps you grow as a family, and as an individual.
But please do what you can. Don't overdue it. If it doesn't fit in your budget, follow my tips on saving for a vacation, or take a tiny/short vacation. The experience will be such a benefit to you and your family.
Plan as much time in advance as you can, so you can make sure you have enough vacation time to use for work if that is applicable. Also so you will know peak periods, and help you save on lodging and other expenses.
Since I look forward to our family vacation every year, saving Money for a Family Vacation is probably the most important part
As a single mother, it is important for me to save up money for our family vacations. Not only that, I am so thankful that my family is a close family and we plan together, therefore we split the cost of things together. We split the cost of the home, transportation, and groceries.
I had my children save up for spending money on this trip. My daughter had the idea of a saving change each day in a mason jar. She started w/ a penny on day one, then two pennies the second day, then three pennies for day three, and so on and so on. You can see her chart here. This is 225 days of savings. You can do it for more or less.
She ended up making a little more money, because she did extra work for her grandpa (papa), and earned more.
My son helped a family friend with yard work, and helped my dad work this summer and saved up a lot of money.
They each saved up enough money to buy themselves quite a bit of things on vacation. They even earned enough to save for their entries into Disneyland, but I wouldn't let them use their money for that. It's great motivation though.
I even had to save up money since I am the sole income provider. If you're a single mother, you most likely get a tax refund. I recommend saving the majority of this money for you to live off throughout the year, and also saving up enough for family vacation.
You can use my method of saving $7.00 per week for a full year. Or you can use whichever method you wish. Just plan to save for at least a year to help you out.
Ideas to help you save money for your vacation
On our trip to Disneyland, in July, we knew there would be heat, so we bought these water bottles (affiliate link) from Amazon to help keep us fueled without spending a fortune one water inside of the park.
Another tip I suggest is, getting a vacation home if you have a large group. We always have a large group, and this saved us so much money, and even time. Thankfully our house was minutes away from the gates, so walking was not a problem. I can send you the AirBnb link to the house. Just shoot me an email.
Since we stayed in the home, we were able to buy groceries for the house, and cook several meals (mainly breakfast and dinner) in the house. This saved us on time and money. I suggest Wal-Mart Grocery . You can either choose delivery or pick up. The pick up is free, and the delivery does charge a fee, but it was worth it. We generally ate lunch while we were out and about. I mentioned before, that I used my reward points from my bank to buy gift cards, that covered a large family lunch at Disneyland with some to spare.
From the very beginning of decided where we wanted to go, and our plans guess what we did. Yep, we made a plan, and budget. That's one of the tips I have for you.
Make a budget for your family vacation
An important rule that I go by is making a budget. Budget how much you think lodging will cost, remember if you have family going with you, you can split this cost. Also budget in your meals and food. And transportation. In this day in age, you can even go to www.uber.com to estimate how much an Uber will cost you from certain location points.
You may have laughed, or rolled your eyes at me in the past for making an agenda, but you'll see it saves time and money. And you will see why I recommend doing both an agenda and a budget.
But above all else…HAVE FUN!! Enjoy the time! Make memories!