Everyone wants to start their mornings off right, and moms are no exception. If you've followed me, you've come to the conclusion, that I am a single mom, and that's who I like to target. I want them to know who they are because of Whose they are. So I've come up with a few single mom morning affirmations to get you going, and to help build your confidence in who God designed you to be.
Read these in the morning, before you kick your day off. You can print them off and post them on your bathroom mirror, or put a copy on your nightstand.
Pick these up before you pick up your cell phone and scroll through social media in the morning.
Don't just read them, but start to believe each word. Know who you are. Practice them each morning, and soon, each one will become habit, second-nature, or your go to pep talks.
I am Who the Word of God says I am
So who does the Word say I am? Where are just a few scriptures.
I will praise thee; for I am fearfully and wonderfully made: marvellous are thy works; and that my soul knoweth right well. Psalms 139:14
Yet to all who did receive him, to those who believed in his name, he gave the right to become children of God. John 1:12
So God created mankind in his own image, in the image of God he created them; male and female he created them. Genesis 1:27
Before I formed you in the womb I knew you, before you were born I set you apart; I appointed you as a prophet to the nations. Jeremiah 1:5
But you are a chosen people, a royal priesthood, a holy nation, God's special possession, that you may declare the praises of him who called you out of darkness into his wonderful light. 1 Peter 2:9
These are only a few scriptures to help you remember who God created you to be. Read them along with your morning affirmations.
Single Mom Morning Affirmation #2
I am Enough:
Mother, know you can't do it all, all of the time. And thank God it's not all about me, because then it would all be up to you.
I know this is hard to grasp. And truthfully, it might not sink in with you from just reading this.
It took me a while to get to this point. And honestly, I have slipped several times. But I do know I am enough. By me doubting if I'm doing enough shows that I am.
I'm only one person, and as long as you are doing your best to show your children you love them, and provide for them. You are enough.
God will stand in the gap, and make things happen where you may, or think you may fall short.
And don't let anyone tell you different.
Single Mom Affirmations #3: I am bold, confident, and beautiful
Approach every morning with this battle cry. Tell yourself, you are bold as soon as your feet hit the floor, for those moments that you want to shrink or fall back. Stand up in your boldness.
Be confident. Know who you are, because of Whose you are. Walk in confidence, because you got this.
Life will throw us single mama's curve ball after curve ball, and sometimes sliders (baseball reference, remember I LOVE SPORTS), but be confident in your God and all He has equipped you with, to get through it all.
You can't name one battle or trial you haven't survived. You may be a little scratched, but you survived.
And those scars and scratches are beautiful, just as you are. Be beautiful inside and out. Look at YOU in the mirror before anything else and declare your beauty.
You are fearfully and wonderfully made. Don't doubt your God-given beauty. Don't allow yourself to feel anything less than beautiful.
Be bold, confident, and beautiful in all you do each day. And declare it out loud to yourself each morning, with this single mom morning affirmation.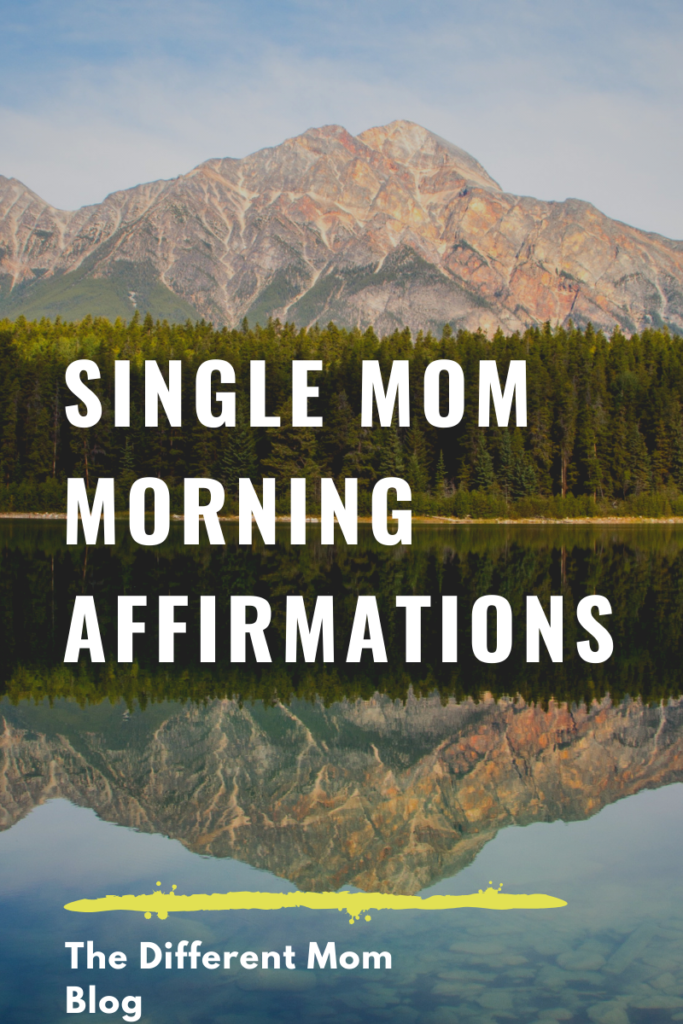 Why?
You're probably wondering, why say these, or what are their importances. It's all about positive thinking. And what you start believing about yourself.
Your children can sense when you aren't fully there, or fully confident. They pick up on your confidence, and they learn from it.
I know you want your son and your daughter to walk in boldness and confidence, show them how. Power of life and death lie in your tongue . So speak life into yourself.
Remember these are a few single mom morning affirmations to get you going. Know who you are, you are enough. And be bold, confident, and always believe you are beautiful!