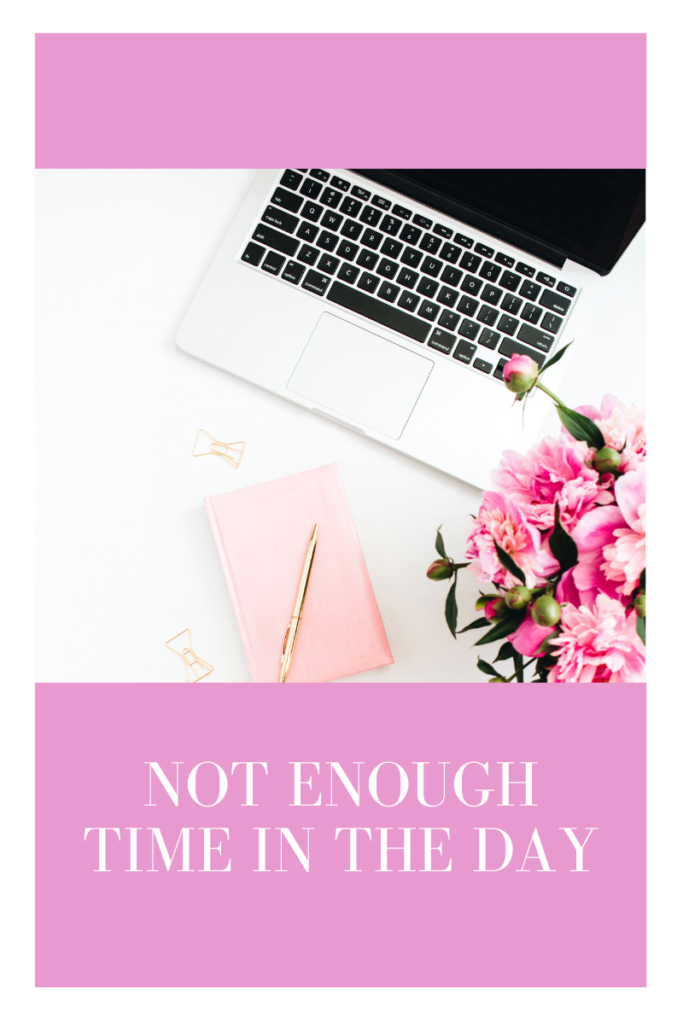 I'm going to say this real loud…STOP USING THIS EXCUSE!! It's not that there is not enough time in the day, it is that you either do too much or do not make enough time in the day.
There!
Now that I have your attention…We all have the same amount of time in the day. There are 24 hours in a day here on Earth, and we all live on Earth, so stop using that excuse.
Yes, that's what it is…an excuse.
**I do share affiliate links to products I love. If you make a purchase, I will receive a commission. I appreciate your support**
As a single mother, I am everything in my house. And if I can find the time to do things, so can you. Seriously, don't blame it on Daylight Saving or anything else.
**I do share affiliate links of products that I trust and use. If you make a purchase from following the link, I may make a commission at no extra cost to you**
I work full-time as an accountant. And own my own business. I am a blogger, a mother, sister, daughter, friend, and active in my church. If I can find time to do things…SO CAN YOU!
Let me break it down for you to show you how I can do things. You ready?
JUST DO IT!
See my post called Full-time life
But I really want to help you mamas get through the day, so I've created a daily planner to uplift, inspire, and help you plan for the day. You are phenomenal. You can do this.
What to do when you feel like there is not enough time in the day
But how you ask? Let's make a list
Be real with yourself
Focus
Make list
Set a schedule
And follow my R.A.S.H. Method
Be real with yourself
Don't blame anyone or someone else. Yes, I know us mothers need help. But sometimes, it just doesn't come. Life hits us all. But we make it hard with self-pity and excuses. Please, please be real with yourself. Work with what you're given.
If you're a single mother and the father isn't around, step up and do it. You can only control yourself, and you will only have to answer for yourself.
If you're married and are the only one doing anything it seems. Don't nag, don't give up. Just do it. Get it done.
If you're a busy mom like me, and feel like you can't fit things in your day, sit down and be real with yourself. Do what you can.
We all have days it seems like we can't go on, but trust me, you can and you will.
What I find important to do when I feel there is not enough time in the day is to…
Focus
On who you are! You are stronger than you think. And whether you share my spiritual beliefs or not, you are a child of the One True King. You are loved.
So love yourself, and focus on your tasks each day. But most importantly focus on your goal.
Yes, set goals! Write your goals down. Your rate of reaching the goals you have written down is greater than those that aren't written down. Even more important, make sure your goals line up with your values.
Focus on each minute of each day. Make everything you have on your agenda mean something and make it all intentional.
Focus on your why and your values. Whatever your goal is. If it's to start a workout, to finish a project. Or if it's to finish school. Perhaps it's to save money. Whatever it is, write it down and focus on it.
Another tip when you feel like there is not enough time in the day…
Make a list and/or Set an Agenda
If you feel like you have 25 things to do that day, write all 25 down. But write your main goal for the day to be something you are striving for that day. For example, my goal could be: "To write a blog post today" My list could include things that don't even have anything to do with the post or the blog, but it all needs to be written down. Here's a sample list for my day.
Goal: Write a blog post today
Pack lunch
Post in Scentsy Party
Hand out samples
Deliver Scentsy to _____ and _____
Post on Pinterest (3-5 pins)
Post on Facebook blog page
Instagram
Jot down blog ideas and gather ideas
Mail thank you note
Complete and send in Youth Aux application
That seems all over the place, right? It actually is. But It keeps you accountable. Once you get a schedule going for your simple normal day-to-day things, it all falls into place. You can then get an agenda, and put it in there.
My daily schedule:
Check out my daily schedule that includes everything from the time I get up to the time I close my eyes at night.
5:30-wake up
5:31-Read daily scripture on phone using the Bible App
5:32-Pray
5:33-5:35-Check social media to make for blog purposes
5:40-6:00-Shower
6:00-Make breakfast and sometimes pack my lunch and daughters lunch. She can pretty much pack her own, but sometimes she will ask me
6:30-Wake up my children. They know they need to wake up, get dressed, brush teeth, fix hair, and get ready to leave by 7:20
7:20 Leave for school and work
7:30 School drop off
7:45 Arrive at work
10:00-Sometimes walk, eat a snack, and post on Social media or just check social media
12:00-1:00-Lunch time. Post on Social Media. And jot down blog ideas
4:30-5:00-Leave work.
4:45 or 5:15-Pick up from after school and after school care.
5:30-HOME
5:32-Change into workout clothes
5:35-start dinner…While dinner is cooking, I help with homework, study spelling, and sign whatever documents I need to
5:40-start a load of laundry. Read my laundry schedule post. It will help tremendously
5:55-6:30-dinner usually happens within this time
6:30-7:00-work out
7:00-mommy time for my children to tell me more about their day. We talk at the dinner table, while I'm cooking, and even in the car. This time is huge to me! The talking is huge. I talk to my children as long as they want to talk. Listen to them, please! They need you to listen. Or we watch Blackish, watch basketball.
7:30-Bath time
8:00-Prayer and Devotional time
8:10-8:30-FaceTime my parents to say goodnight (Family is so important to me
8:30-Bedtime for my children
9:00-Work my Scentsy business this can include making samples. Write thank you notes. Package orders if necessary. Place orders if necessary. Do follow up with customers
9:45-Work on my blog. Write a post. Post to social media. Check subscribers. Write subscription emails
10:15-10:30-Pick up the mess and wash dishes
10:30-10:45 Bed time
And then repeat! You tired?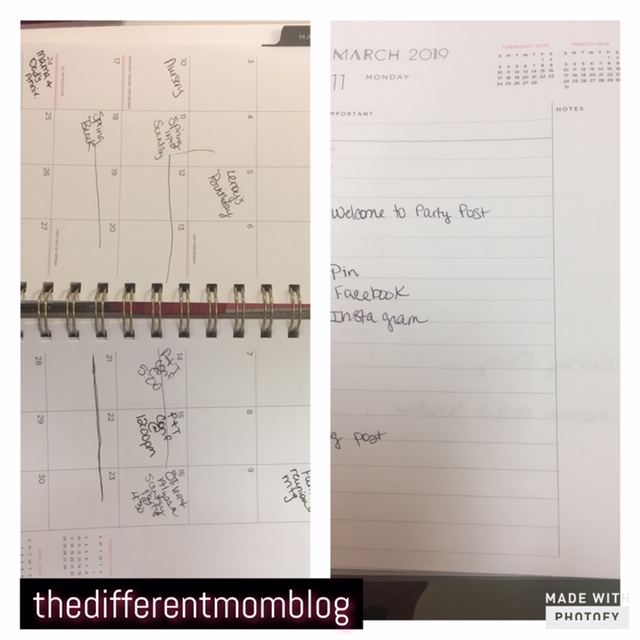 What excuse do you have for not having enough time in the day?
My monthly calendar and agenda…See they don't look as bad as you thought.
So tell me what's your excuse? I'm not trying to downplay your busy life by any means. I'm just simply trying to show you, how capable you really are!
If putting your agenda in your phone for those notification reminders, that's fine too.
Just get a list and an agenda where you can check off and hold yourself accountable.
Use my daily planner to help you accomplish your goals each day!
Put the highlights of your day in the agenda. Set a schedule like mine above, but don't put everything on that agenda. Your agenda will simply be the things that don't happen every day. Like we know you need to shower and brush your teeth daily. Don't include that in your agenda.
Once you get used to your schedule it's second nature…
You and your children will appreciate it, and you'll accomplish so much. You'll surprise yourself.
You've got this! You can do this! Write it down and get it accomplished!
Get your Different Mom Daily Goal & Agenda here!
If you are looking to find more time in your day and work on your time management, check out my Time management mini-course.
We discuss my R.A.S.H. Method and so much more in my Facebook community. If you are wanting to maximize your time as a mother or a mompreneur check us out!