If you are like me, when you scroll through Pinterest or other social media outlets looking for farmhouse decor, you start to see you really love the look, but a lot of it is out of your price range. Even when you try and narrow down your search by using "inexpensive," you still find it hard to get the look to work in tandem with your budget. Well, this post is going to show you some seriously inexpensive farmhouse kitchen decor for less than you could imagine.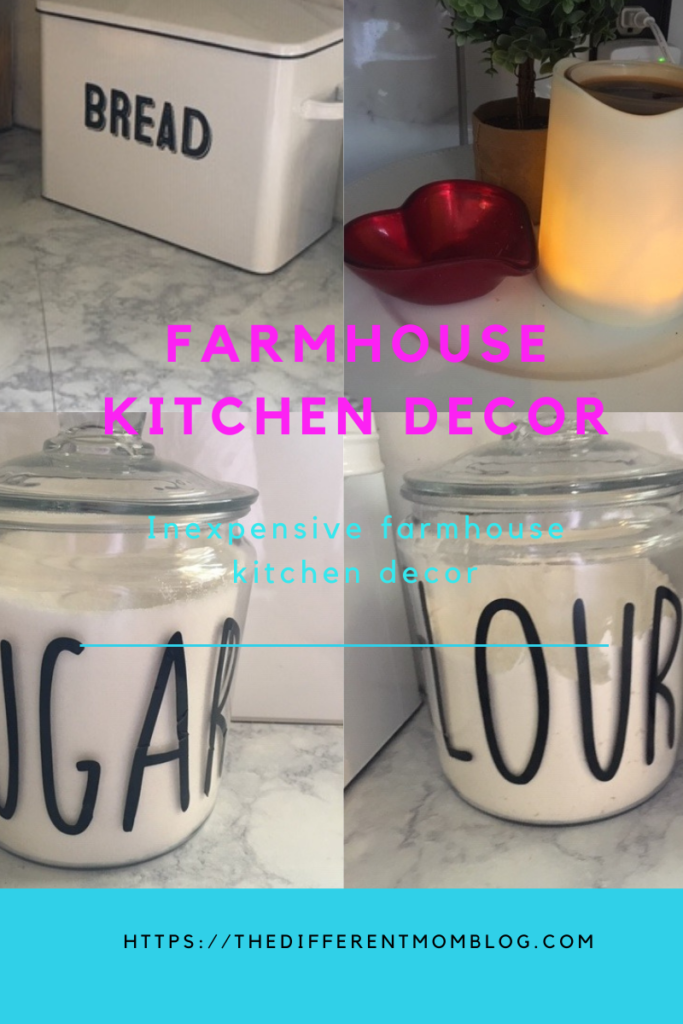 As a single mother, it is a must that I stay on a budget. I cannot just spend and not regret it. So, I do not take it lightly when I aim to tell you all about how I pull off the things that I do here.
I am aware that staying on budget or way under budget is a requirement for so many of us. But just because it is under budget, does not mean it has to look like it was done for less. Remember, you deserve the best. You deserve to have the kitchen look you want. The price tag does not have to be outrageous.
This post does contain affiliate links. I may receive a commission from your purchases made through this link with gratitude of course.
DIY Inexpensive Farmhouse Kitchen Decor
Believe it or not, all that you see in this picture is around $50. And a lot of it is DIY. But of course, it contains a Scentsy warmer, but more on that later.
I'll start left to right. The cake stand was made with a charger plate and a candlestick from the Dollar Tree. I initially made it to hold cupcakes for a three-year-old's birthday party. I hot glued the candlestick to the charger. It cost $2.00 and as you can tell it's varsitle. I have used it for a cupcake stand, entertainment decor, and for my kitchen decor space.
On top of the stand is a Scentsy warmer. I love decorating with my Scentsy warmers. Not only are they perfect for decorating, but they are also safe! The wax is food-based and it dries quickly so there is no burn. It is flameless, and that eliminates the risks that candles have. There are so many different warmers, you can truly decorate for every holiday, season, or occasion.
For me, greenery is a must when decorating certain spaces. It can be real or artificial. The artificial plant you see in this picture came from Target out of the dollar spot. I cannot go into Target without first looking in that section. I usually find something I can use. And it is never more than five dollars! This cute little tree was only three dollars and will get many uses.
The heart-shaped dish is from Dollar General. I have had it for a few years, so it is a staple in my Valentine's Decor. I have even used it as a candy dish for Valentine's Day.
Farmhouse Breadbox
Next in line is a breadbox. Every farmhouse kitchen must contain a breadbox. And my kitchen definitely contains one. It's not only adorable, but it's also functional. I really use it to store bread…sliced bread, bagels, muffins, and just about any other bread we eat. You cannot tell me you don't want this if you're serious about farmhouse decor.
Sometimes when people stage their homes or decorate, many of the pieces are there to only look at. But if I had opened up this breadbox, you would have seen there is actually bread in there. It serves a true purpose in my kitchen.
Inexpensive Farmhouse Kitchen Decor
DIY Flour & Sugar Canisters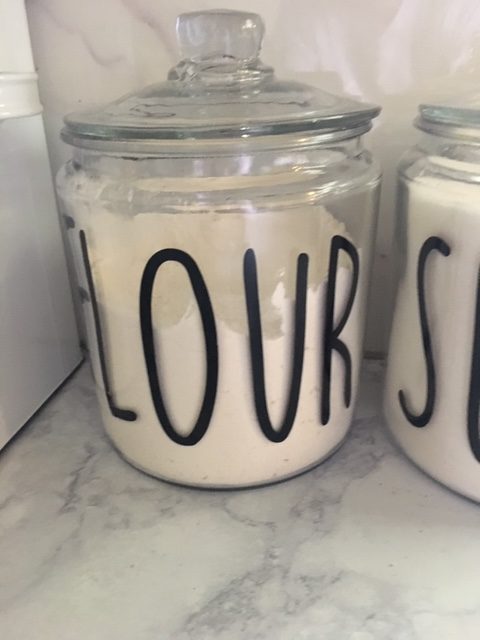 And now, my DIY flour and sugar canisters. I cannot express to you enough the pride I have in these canisters. The glass containers came from Walmart for about $5 each. I am sure you can find some cheaper, but I loved this size, so these are the ones I grabbed. You may find some at Dollar Tree as well.
Here is the DIY part–I made the words with my here. Or you can simply not add any font to your canisters. They would still serve their purpose. Just make sure you can distinguish the sugar from flour–that would be an awful mistake.
I received my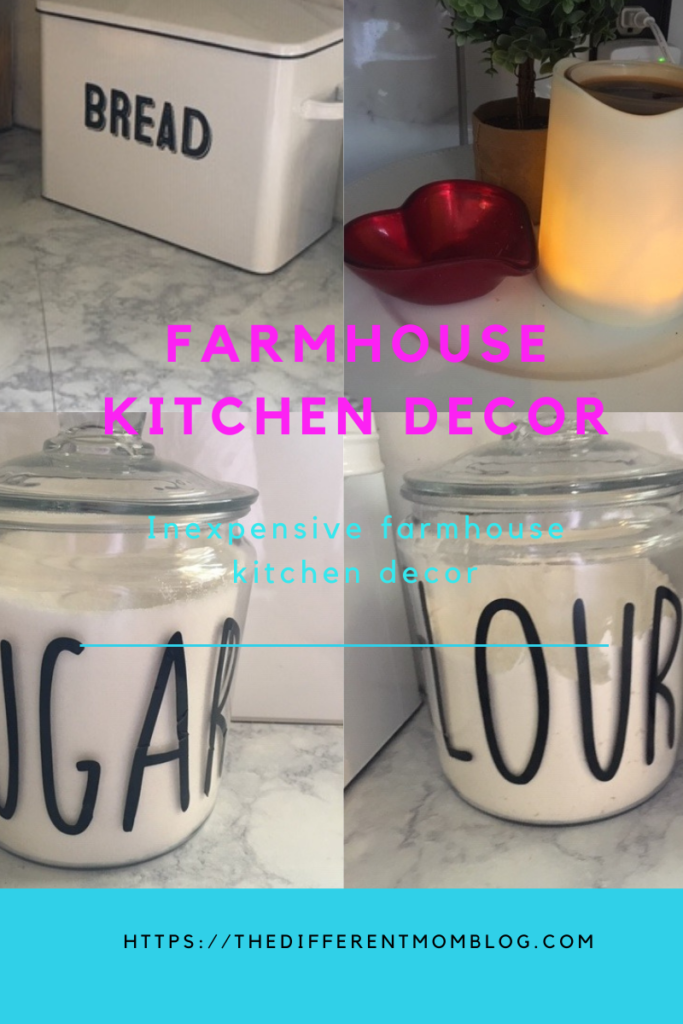 Inexpensive Farmhouse Kitchen Decor

And that is all to it. It is nothing short of inexpensive farmhouse kitchen decor for less than you could imagine. Five items, for a total of around fifty dollars, to turn your kitchen into a farmhouse kitchen.

Remember, you do not have to break your budget to get the look you want. If you are looking for extra income, you can check out my post on how to earn extra money to help fund your farmhouse kitchen decor look. I hope you can find all that you are looking for in this post to have the kitchen you wish. Remember, I aim to give you the best for less.