We all have heard the expression, but never give it much thought I'm sure. When life gives you lemons what do you do? No, this is not a self-help type of post. Sorry to give you a lemon. This post is merely a list of uses, tips, and tricks for lemons. There are numerous ways you can use lemons. As a single mom, I need all of the tips and tricks I can get my hands on, and that's what I want to do for you. Keep in mind, when life gives you lemons, you can bake, cook, and even clean with these little yellow pieces of fruits.
When Life Gives You Lemons–Lemon Bars
This recipe is not mine, but it is too good not to share. It is the Pioneer Woman's Lemon Bar recipe.
Not only is it delicious, it's simple. I made these for a Scentsy home party I had, they were a huge hit.
So when life gives you lemons, make lemon bars.
Pioneer Woman Lemon Bars Recipe
Easy lemon bar recipe with a thicker crust. They are absolutely delicious
Ingredients
Crust
2

C

flour

1/2

C

sugar

1/4

tsp

salt

2

sticks

salted butter cut into small cubes

2 sticks=1 cup
Filling
1 1/2

C

sugar

1/4

C

flour

4

whole large eggs

Zest & Juice of 4 medium-sized lemons

Powdered Sugar for sifting
Instructions
For the crust: Preheat the oven to 350˚. Grease a 9-by-13-inch pan with butter. (Use an 8 x 10 pan if you'd like the layers to be a little thicker.)

Stir together the flour, sugar, and salt. Add the butter to the bowl and use a pastry cutter to cut it all together until the mixture resembles fine crumbs. Press into the prepared pan and bake until golden around the edges, about 20 minutes.

For the filling: Stir together the sugar and flour. Crack in the eggs and whisk to combine. Add the lemon zest and juice and mix until combined. Pour over the crust and bake about 20 minutes.

Allow to cool in the fridge for a minimum of 2 hours, then sift powdered sugar over the top before cutting into squares.
You won't find an easier lemon bar recipe that truly taste just as good as it is easy. Your family and/or your guest will love them.
trust me when I say, when life gives you lemons, the first thing you should do is make lemon bars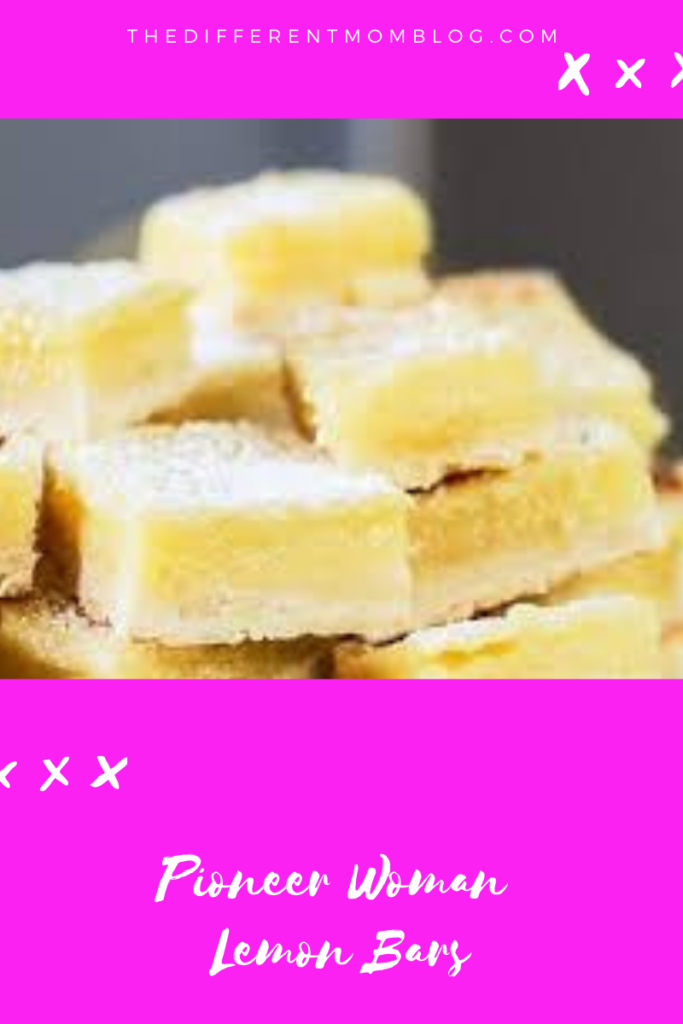 When life gives you lemons…Clean
Don't make that face at me. I already gave you the best thing to do with lemons. This may not sound as appealing, but trust me, you will thank me in the long run.
Lemons make great for cleaning supplies. Here are three things I have cleaned with lemons:
Clean your toilets
Cut the lemon in half and rub the juice around the bowl, inside and out. The acid from the juices will cut through the stains and the nastiness.
Cleaning with lemons has perks. The biggest to me, is it is natural. No harsh chemicals and no mess. Not only that, it smells good.
Who doesn't like the smell of lemon when they are cleaning?
If you aren't a fan of cutting the actual lemon, here's a cool hack for you, get Scentsy's "Squeeze the Day" bathroom cleaner. It works wonders and smells so good! Grab yours today for only $8
The bathroom cleaner is not limited to toilets, it cleans the tub, shower, and sink.
Clean the garbage disposal
I think this hack is an old one, but trust me, it is so effective. When you finish cooking, eating, or cleaning with your lemon, DON'T TOSS IT!
Put it in your garbage disposal and turn it on. It breaks down the other food particles are in there with its acid. And the smell from the lemon lasts for a long time. After a few flushes, you'll still smell it.
Another cleaning hack for lemons
I happen to have an electric glass top kitchen range. I have not tried cleaning other range surfaces with lemons, but I do know lemon juice does help with some of the stubborn burnt on spots on my stove.
You simply sprinkle some baking soda on the surface and drizzle lemon juice on top of the baking soda. Let it sit for about 30 minutes and use a soft-bristled cleaning brush and some elbow grease.
I have heard of people using vinegar with this combination as well or even instead of. Either way works.
This may not work for the spots that have been burnt on for a long period of time. So make sure you catch the spots early.
Extra
Warm "Squeeze the Day' Scentsy wax. Even if you just did not clean your house, the smell of this wax will leave your home smelling fresh and clean.
Squeeze the Day comes in more than just wax. Remember, I told you, it does come in bathroom cleaner, but here are other products, you can get the scent in.
You can have your entire home AND car smelling like it was just cleaned with the freshest lemon
So the next time you are handing a bunch of lemons, do more than just make lemonade. You can clean with those lemons. And once you are finished cleaning, you can eat those lemon bars for your reward.