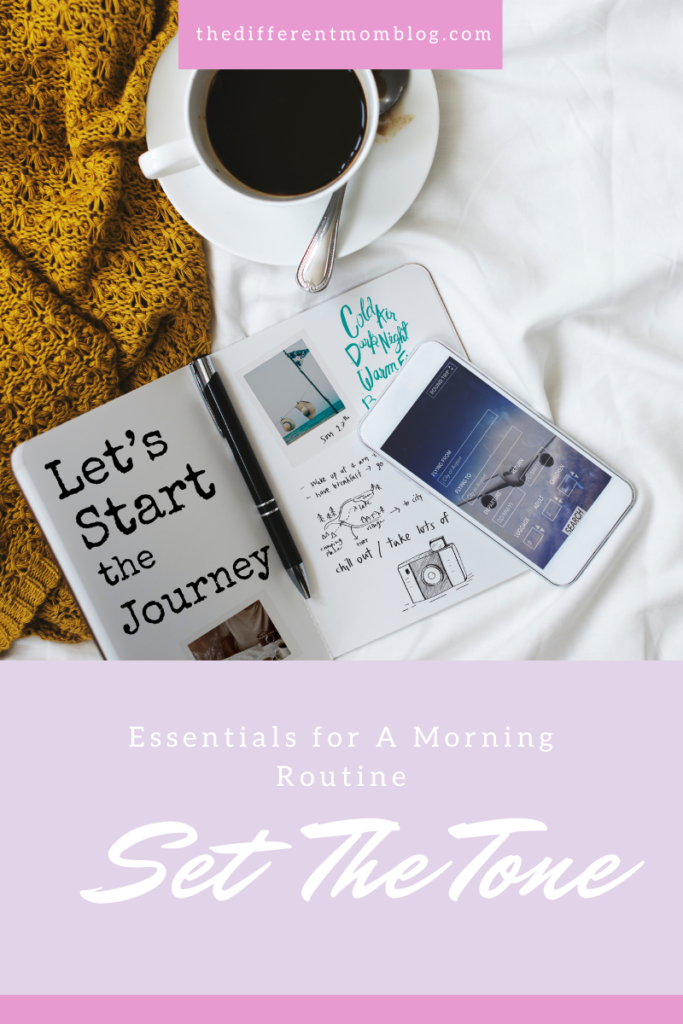 I've been doing this single mother thing for about seventeen years now! I know, I can't believe it myself. But I'd like to say I have the hang of most of it. Especially when it comes to organization, time management, and routine. That is not to say that I'm not spontaneous (OK, maybe that's partly true). But I will tell you when it comes to getting multiple children dressed and out the door by yourself, it takes discipline and consistency. Ever since my oldest was an infant, I knew I needed a great routine. And since I am a morning person, what better way to start than with a great morning routine. I knew I had to set the tone for an amazing morning routine.
Truth be told, I needed victories, big and small in my life as I was still working on my Bachelor's degree when my son was born. I would drop him off at daycare and then head to work or class depending on the day. I knew if I was to be successful, and I wanted my son to feel as "normal" as possible, I needed to set the tone for our day. We have pretty much stuck with that same routine ever since. And I will go ahead and say it has been successful for us.
If you're wondering what key components are essential to my success, I'm here to share.
Here is how I and even my children have learned to
Set the tone for an amazing morning routine
First step to set the tone for an amazing morning routine is I wake up at the same time almost every day!
Yes, you read that right, my alarm is set to 5:20 am every morning! On weekends, or holidays I may not do my normal routine, but as a general rule, I am up and start my day at the time.
You're probably wondering why does it matter what time you get out of bed. And let me tell you it's all about habit and routine. Your whole goal is to accomplish goals, reach your dreams, respond in kindness to people, and be successful. And if you agree with that, then a morning routine is the way to go.
It takes practice and a commitment to consistency to get up even on the days you don't want to. I know you can do it.
Prayer & Time with God
My faith is no secret, so don't be shocked about this part of my morning routine. It is so essential in my life. If anything does, this definitely sets the tone for my morning and my day.
I like to thank God for allowing me another day and for His new mercies.
Talking with God and doing a devotional every morning gets me in the right frame of mind, allows me to remember my why each time. Going through your blessings and spending time in the Bible each day, you suddenly remember you have much to be thankful for, and your day usually glows differently.
I don't like telling people how to spend their day, but if you do not do any other part of this routine, I truly hope you choose to do this one.
Journaling and goal-setting are ways to set the tone for an amazing morning routine
Some people may not be into journaling. And honestly, before I truly sat down and tried it, I was not a fan either. But on the contrary, I do see how it benefits me a great deal. In my business, it helps me stay on track.
It doesn't have to be extravagant. There are days I like to follow journal prompts, and some days I write down business plans and think of how people will react to each new offer, each launch, or anything I plan to do any my business.
As for daily goal setting or task writing, I hope you take this seriously, especially if you would like to reach your goals. If you are wondering why you aren't achieving your goals, I would start with writing them down, and taking intentional steps to achieve them. Perhaps this article will help.
There are many different ways to start your day and to get the results out of each day you wish. And remember, there is no set way, you must do anything in your morning. But remember, proper time management is important. I wanted to give you, as a single mother how Set The Tone For An Amazing Morning Routine.
These are other things I include in my morning:
Wake up at a set time
Meditate/Yoga/Workout
Journaling
Prayer
To-Do List/or Set your daily goals
Self-development
If you are looking for help with establishing a morning routine and sticking to it. Check out my work with me page. Here is a checklist you can download to help you along the way of setting the tone for an amazing morning routine.
And I would love for you to join our SET THE TONE COMMUNITY. We will work on creating you an amazing morning routine, accountability, a great foundation for how you will respond to any and everything that happens in your day.