When my children were smaller, I made "special" food for different holidays and occasions. We've had pancakes for the Christmas holiday (green pancakes, that we decorated with yellow star sprinkles, red candy sprinkles, and whipped cream.
**I do share affiliate marketing ideas and strategies with you, so some of my material will contain affiliate links for products and/or services I use and love. If you purchase or make a subscription from one of these links, I will earn a commission**
This time, I made rainbow pancakes in honor of St. Patrick's Day. St. Patrick's day fell on a Saturday, so it was fun to experiment because I had the time.
You could probably use whatever food coloring colors you'd like, but I specifically remembering my daughter wanted purple, so I had to make a purple pancake to go with the rainbow…because you know there is a shade of purple in the rainbow.
You begin with the traditional way of making pancakes.
St. Patrick Day's Rainbow Pancakes
Easy and fun. Surprise your children with these rainbow pancakes on St. Patrick's Day that they are sure to love
Equipment
Griddle or large pan

2 large mixing bowl

5 smaller mixing bowls

Spoons for mixing
Ingredients
1 1/4

Cup

Flour

2 1/2

tbsp

Sugar

3/4

tsp

Salt

2

tsp

Baking powder

1

large

Egg

3

Tbsp

Vegetable oil

Food Coloring

4 different colors (**hint** combine red and blue to make purple

Whipped Cream

for the clouds

Maple Syrup

Optional

Cooking Spray
Instructions
In one of your large mixing bowl whisk milk, egg, and oil together

In the other large mixing bowl, combine all of your dry ingredients (flour, sugar, salt, baking powder

Slowly combine wet ingredients to the dry ingredients

Mix well to make sure there are no large lumps and all is combined

Next divide the pancake batter into 5 equal parts and place in the 5 smaller bowls

Then add the food coloring to the divided batter; One bowl for blue, one bowl for red, one bowl for green, one bowl for yellow, and the fifth bowl for the purple

Spray your hot griddle or pan with cooking spray to make sure the pancakes don't stick

Flip the pancakes when the bubbles on the top are forming and popping

Add puffs of whipped cream to each side of the pancakes for the clouds
Notes
Cook until both sides are done and make sure your griddle or pan is nice and hot before you add the batter. Make sure the food coloring is mixed well in the batter. 
Pretty simple right? It starts out just like making regular pancakes. The change doesn't come until you need separate bowls to make the different color arches of the rainbow.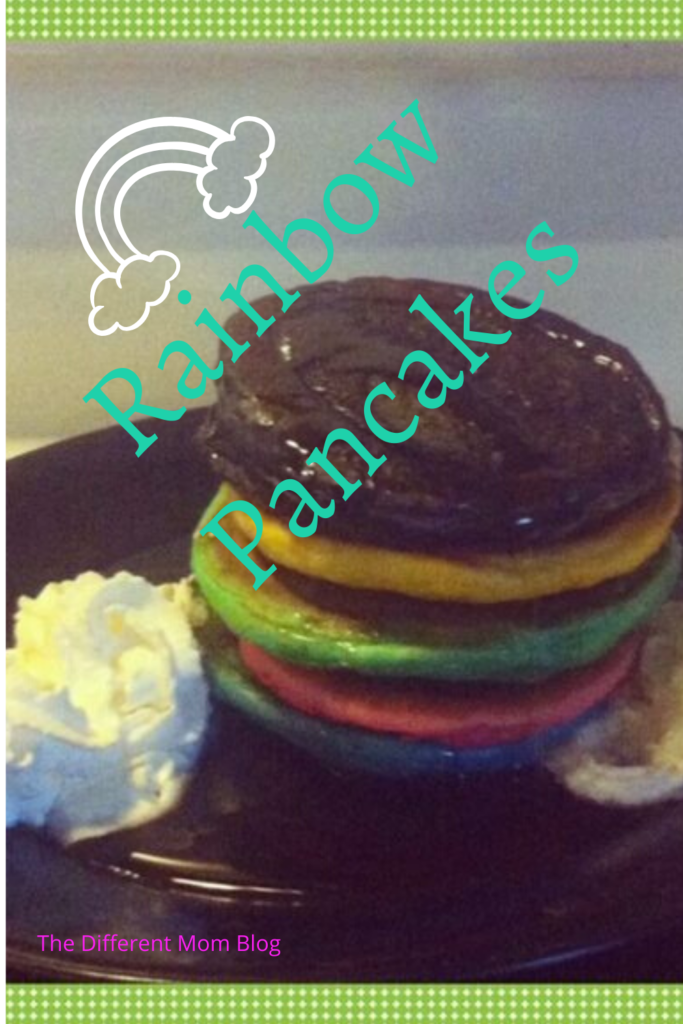 For the different color arches, you'll need 5 separate smaller bowls. I'll explain why in a bit.
I had a large griddle, so I was able to cook all of mine at the same time. If you do not have a griddle, you can cook each color separate.
Make pancakes whatever size you'd like. I made enough to make 10 small-medium pancakes.
Serve with whipped cream on either side to make the clouds.
Add maple syrup if you wish.
These were so fun to make, because I knew they would love them. Your kids will think you're a magical leprechaun when they see these!