Week nights are generally busy for my family and me. So I needed a recipe that was quick, easy, and something they would like.
I wasn't sure what I would make, but I took some ground beef out the freezer, not having any idea what I would make.
So this is completely on the fly, but it turned out good.
You already have the ingredients at home, I pretty sure.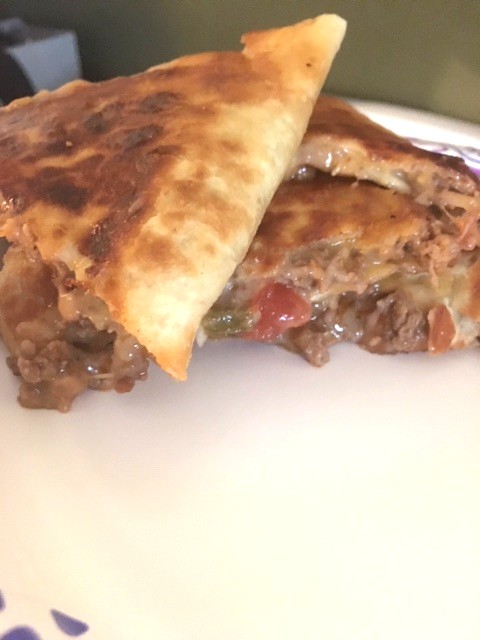 Easy Ground Beef Quesadillas
Easy weeknight quesadillas with only 5 ingredients. Your family is sure to love them.
Ingredients
1

lb

Ground beef

1

cup

Pace Picante Sauce

Shredded Mexican Blend Cheese

Butter

6

Tortilla Shells
Instructions
Brown your meat in a large skillet on medium heat

Once it's brown, strain the extra grease out

Reduce heat to low, and return the beef to the skillet

Add in your Picante sauce

Just cook for about 1 extra minute, to make sure the Picante Sauce is well incorporated

Put meat in a bowl to the side

Put in about a tablespoon of butter in the skillet with the stove on medium heat again

Put one tortilla shell in the pan

Sprinkle some cheese on half of the tortilla shell

Add a spoonful of the ground beef mixture

Then sprinkle some more cheese on top

Fold the other half of the tortilla shell over to form a moon shape. Press the edges down a little to keep the ingredients from falling out when you flip the quesadilla.

Flip the quesadilla over to cook on the other side until golden brown on both sides

Use a knife (or pizza cutter is easier) to cut the quesadilla into 3 triangles

Serve with your favorite queso, salsa, both, or neither
Notes
Be careful not to overfill the one side of the shell, so it won't all spill out when you flip it. Nutrition information is just an estimate based on the packaging and the amounts used.
I have a few confessions. #1 I always forget to take pictures when cooking. I think I get so excited about what's about to get in my mouth. That's why the pictures aren't always the greatest.
I try my hardest for you guys to take a picture of every step so you can picture it, but it just doesn't happen.
Confession #2 I hate tomatoes, so the look of the chunk of tomato from the Picante Sauce does NOT appeal to me.
I'm always looking for quick and easy meals for our family.
But honestly these things are so easy, anyone can make these.
Enjoy!