When we were doing meal planning last week, my daughter asked me to make beef stroganoff. I like to call it, my Simple Weeknight Beef Stroganoff. It's so easy, and using one pot makes cleanup a breeze as well.
I know how important it is for us to cook meals that our entire family will eat. My daughter is picker than my son, so to get a meal that she likes, I don't mind accommodating and making it.
I didn't realize she liked it so much. One great thing about this is it's all cooked in one pot. It's so simple, and it tastes delicious.
Of course, I did a few substitutions, because remember, my daughter doesn't like onions.
**I do share affiliate links with you guys for products I love. If you make a purchase from one of the links, I will receive a commission at no extra cost to you.**
Here are the ingredients, and instructions for this simple recipe.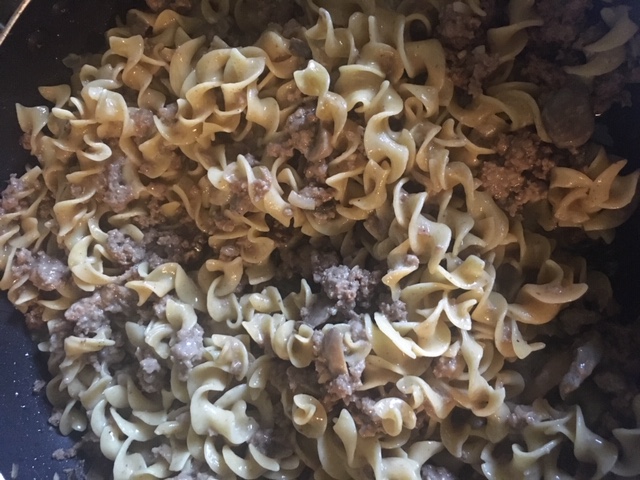 Simple Weeknight Beef Stroganoff
This one pot stroganoff meal is simple but your family will love it. Only a few ingredients that you probably have in your pantry and refridgerator already. It takes less than 30 minutes from stove top to the table.
Ingredients
1

lb

Ground Beef

1/2

Medium Onion

1 1/2

tbsp

Olive Oil

16

oz

White Mushroom

Sliced

2

cloves

Garlic

3

Cups

Beef Stock

8

oz

Egg Noodles

1/2

Cup

Sour Cream

1 cup can be used if you wish

1

tbsp

Cornstarch

used to thicken the stroganoff

Salt & Pepper

to taste
Instructions
In a large pan over medium high heat, heat olive oil.

Add the sliced mushrooms.

Season with your salt and pepper.

Next add in the chopped onion and garlic.

Set to the side on a plate

Now add in your ground beef, and brown until completely browned.

Add all but 2 1/2 tablespoons of the beef stock and egg noodles. 

Return mushrooms and onions back to pan.

Stir making sure the noodles get incorporated.

Lower heat to simmer, and let simmer for about 20 minutes.

Stir just enough to make sure all noodles are incorporated and covered.

In a separate bowl, add in your tablespoon of cornstarch and 2 1/2 tablespoons of beef stock. Mix until the cornstarch is smooth and no more lumps.

Make sure your heat is on low and add in your cornstarch mixture. Next, add in the sour cream and mix together until you can no longer see the sour cream.
Notes
I like to add a little more salt at this time, to make sure it's seasoned good. Serve and enjoy!
That's it! This is truly a simple weeknight beef stroganoff meal, and using one pot really does make cleanup a breeze, and not much prepping and planning.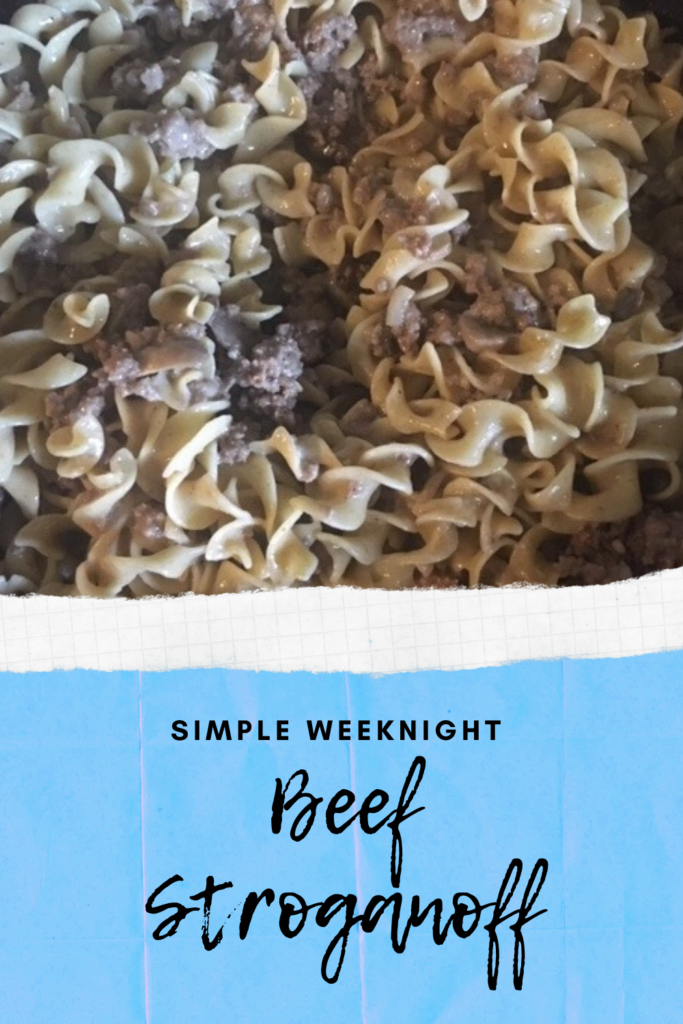 You can find other simple weeknight recipes here.
To make your menu planning and grocery shopping easier, get my menu planner and shopping list here. It helps you save money and plan without a fuss.
I use this all the time when I plan my menus and buy my groceries.