Hobby Lobby had these cute little guys 40% off for St. Patrick's Day, so I got excited!
They are inexpensive and easy for you to do if you want a good craft for your children. There's nothing to them, but they're too cute to pass up.
We usually find crafts for all kinds of holidays. It's just something to do, and more importantly something to do together. One day, they'll be too big to want to do silly stuff with their mama, so I'm taking advantage of it now.
It's mainly for my daughter and me. My teenager will participate when I kind of pressure him, or give him something to laugh at. He knows his mama isn't the most creative, but he knows I have fun.
When I say they are simple, I mean it.
First you pick the feet you want, either the green sneakers, or the leprechaun loafers LOL.
All you see here, minus the black plate, come in the package. You don't need to buy anything else!
I recommend not peeling off the bottom sticky part of the shoes until you're completely finished building your little pom-pom man/woman, because it's super sticky.
You stick the pom-pom to the shoes by using the little round stickies they provide.
Then you accessorize your St. Patty's Day pom-pom anyway you wish. With a bow, a hat, both or neither.
I'ts quick and easy, and anyone can do it. Trust me, If I can put these together, anyone including a toddler can.
This is just a cheap easy way to spend time with, and get crafty with your children. I'm all about frugal and inexpensive stuff. Make sure you use your 40% off Hobby Lobby coupon if they aren't already on sale.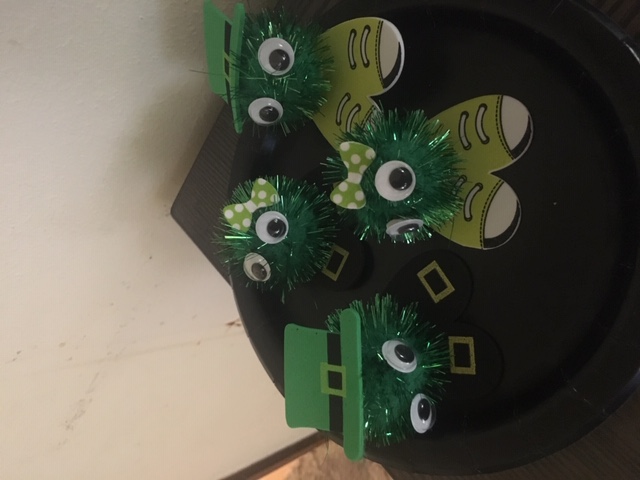 Don't let anyone tell you, it's not cool to do crafts or spend time with your children. And it's affordable. Be Different!
Make sure you wear your green so your children don't pinch you…I had to sleep in my green, because I don't trust those guys.